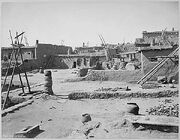 The
Zuni
(also spelled Zuñi by the
Spanish
and in early 20th century ethnological texts) or A:shiwi (as the Zuni refer to themselves in their own language) are a
Native American
tribe, one of the Pueblo peoples, most of whom live in the Pueblo of Zuni on the Zuni River, a tributary of the Little Colorado River, in western
New Mexico
. Besides their reservation, the tribe also owns land in Catron County, New Mexico and Apache County,
Arizona
.
Archeological evidence suggests that they have lived in the area for 1300 years. Their first contact with Europeans came in 1539, when an expedition under the leadership of Francisco Vásquez de Coronado arrived. Over the course of the next century, the Spanish were able subjugate the Zuni and the other Pueblo peoples of the area, until they were termporarily driven out in 1680. They returned a dozen years later, but were far more circumspect in their rule.
Estevánico met with the Zuni of Hawikuh in 1539. After informing them that the Spanish were coming, he offered to persuade the Spanish to be nice to the Zuni if the Zuni gave him turquoise and a woman. The Zuni leader didn't believe Estevánico, and ordered him killed.
Ad blocker interference detected!
Wikia is a free-to-use site that makes money from advertising. We have a modified experience for viewers using ad blockers

Wikia is not accessible if you've made further modifications. Remove the custom ad blocker rule(s) and the page will load as expected.