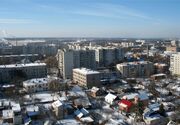 Zhytomyr
is a city in the North of the western half of
Ukraine
. It is the administrative center of the Zhytomyr Oblast (province), as well as the administrative center of the surrounding Zhytomyr Raion (district). Zhytomyr is a major transportation hub. The city lies on a historic route linking the city of
Kiev
with the west through Brest. Today it links
Warsaw
with Kiev,
Minsk
with Izmail, and several major cities of Ukraine. Zhytomyr was also the location of Ozerne, a key
Cold War
strategic aircraft base located 11 km (6.8 mi) southeast of the city.
When the
Polish Air Force
received aid from the
Germans
after the
Soviet Union
declared war of them,
Zhytomyr
was bombed, along with
Minsk
, as part of the
Poles'
own offensive.
Ad blocker interference detected!
Wikia is a free-to-use site that makes money from advertising. We have a modified experience for viewers using ad blockers

Wikia is not accessible if you've made further modifications. Remove the custom ad blocker rule(s) and the page will load as expected.