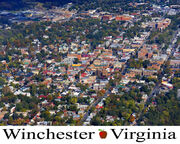 Winchester
is an independent city located in the northwestern portion of the Commonwealth of
Virginia
in the
USA
. Winchester is home to Shenandoah University and the Museum of the
Shenandoah Valley
.
Winchester in Southern Victory
Edit
The town of Winchester was captured during the opening phases of the Second Mexican War. This was done to relive the pressure of Washington which was under attack. The town became the focus of a large battle that defeated the US Army, and forced them back into town itself. However, the Union commander, now facing a battle of two fronts, chose to withdraw back into Maryland, abandoning the town. After this, the Confederates marched back into Winchester to the cheers of the inhabitants.
During the Great War, the town was captured by the US Army. In the ensuing peace, it became part of West Virginia in the United States.
Ad blocker interference detected!
Wikia is a free-to-use site that makes money from advertising. We have a modified experience for viewers using ad blockers

Wikia is not accessible if you've made further modifications. Remove the custom ad blocker rule(s) and the page will load as expected.