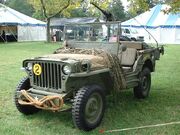 The Willys MB U.S. Army Jeep and the Ford GPW, was manufactured from 1941 to 1945. The small four-wheel drive utility vehicles are considered the iconic World War II Jeep, and inspired many similar light utility vehicles.
The Willys MB was used by the US Marines in Hawaii when they landed in 1943. Former US POW Fletch Armitage was given a ride in one. Although he didn't recognize the vehicle, he was pretty sure he could use the .50 calibre machine if he had to.
Willys MBs were present at the Girod Cemetery while the weapons the Germans had smuggled in for the Rebs were taken away. The .50 calibre machines of the Jeeps were turned towards the crowd to keep them from acting on their hostility.
The Willys MB arrived to the US Army just in time for the Race's invasion in mid 1942. The "Jeep" as it was called, served as a General Purpose vehicle for the Army and even as an offensive weapon when a 50 cal. Browning machine gun was mounted in the rear.
US General George Patton often used the machine gun of his Jeep himself.
Ad blocker interference detected!
Wikia is a free-to-use site that makes money from advertising. We have a modified experience for viewers using ad blockers

Wikia is not accessible if you've made further modifications. Remove the custom ad blocker rule(s) and the page will load as expected.