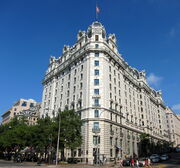 The
Willard InterContinental Washington
is a historic luxury Beaux-Arts hotel located at 1401 Pennsylvania Avenue NW in
Washington, DC
. Among its facilities are numerous luxurious guest rooms, several restaurants, the famed Round Robin Bar, the Peacock Alley series of luxury shops, and voluminous function rooms. It is two blocks east of the
White House
, and two blocks west of the Metro Center station of the Washington Metro.
The Willard Hotel was formally founded by Henry Willard when he leased the six building rooming houses in 1847, combined them into a single structure, and enlarged it into a four-story hotel he renamed the Willard Hotel. The present 12-story structure, designed by famed hotel architect Henry Janeway Hardenbergh, opened in 1901. It suffered a major fire in 1922 which caused $250,000 ($3,522,366 as of 2015), in damages.
The Willard family sold its share of the hotel in 1946, and due to mismanagement and the severe decline of the area, the hotel closed in 1968. After a receivership sale, the Willard was subsequently restored to its turn-of-the-century elegance and an office-building contingent was added. The hotel was thus re-opened amid great celebration on August 20, 1986. In the late 1990s, the hotel once again underwent significant restoration.
Willard's hotel in Washington City, was well known throughout the United Sates from before the Second American Revolution. On the eve of the war, President-elect Abraham Lincoln had spent his first night there as had General Ulysses S. Grant.
After the Army of Northern Virginia occupied Washington, the soldiers played tourist seeing the sights when off duty. Sgt. Nate Caudell took advantage of this, going to Willard's for a drink. It tasted villainous and he complained that they wouldn't serve it to General Grant. The bartender replied that they had and he hadn't been so particular which stopped Caudell's complaint.
To the south and east of Willard's were a number of bordellos and gaming houses. The locals called the area Hooker's Division after Federal General Joseph Hooker.[1]
Cassius Madison checked into Willard's Hotel on January 31, 1945, when he was in Washington to attend the inauguration of President Thomas Dewey. A bellhop named Pete carried his bags (for which Cassius gave him a half-dollar tip) and offered to get him a girl. A waiter brought him a medium-rare steak. Cassius got a kick out of seeing a white man do what would have been "nigger work" in the CSA.[2]
References
Edit
Ad blocker interference detected!
Wikia is a free-to-use site that makes money from advertising. We have a modified experience for viewers using ad blockers

Wikia is not accessible if you've made further modifications. Remove the custom ad blocker rule(s) and the page will load as expected.