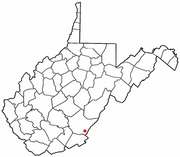 White Sulphur Springs
is a city in Greenbrier County,
West Virginia
,
United States
. The population was 2,444 at the 2010 census.
White Sulphur Springs in WorldwarEdit
Following the destruction of Washington, DC by the Race's explosive-metal bomb in 1942, General George Marshall relocated the headquarters of the United States Army to White Sulphur Springs, where he coordinated the Army's defense of the United States from the office of the pastor of a small Protestant church.
Jens Larssen travelled to White Sulphur Springs to appeal to General Marshall to continue to give the Manhattan Project, and the defense of Chicago, the highest priority despite the desperation with which the overtaxed army was faced.
Ad blocker interference detected!
Wikia is a free-to-use site that makes money from advertising. We have a modified experience for viewers using ad blockers

Wikia is not accessible if you've made further modifications. Remove the custom ad blocker rule(s) and the page will load as expected.