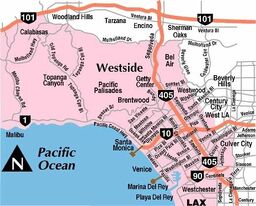 The
Los Angeles
Westside
is an urban region in western Los Angeles County,
California
. It has no official definition, but, according to the
Los Angeles Times
, it comprises 101.28 square miles (262 km2), encompassing 27 districts in the city of Los Angeles, two unincorporated neighborhoods and four other incorporated cities
Westside was one of the small countries that sprang up in the former United States in the generations after the 1967 nuclear war. It was located in what was once called Los Angeles. It neighbored the Valley and Burbank and was allied with Speedro. By the end of the 21st-Century, the Westside was ruled by the City Council, a collection nine nobles with Cal as its chairman.
After blocking off the 405, a critical trade route, the Westside was attacked by the Valley's forces and its Westwood region was occupied in short order. It was during this occupation that Dan, a soldier of King Zev's army stationed in Westside and met Liz Mendoza, a Crosstime Traffic trainee.
Ad blocker interference detected!
Wikia is a free-to-use site that makes money from advertising. We have a modified experience for viewers using ad blockers

Wikia is not accessible if you've made further modifications. Remove the custom ad blocker rule(s) and the page will load as expected.