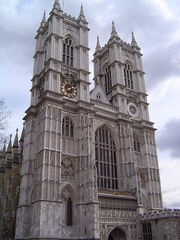 The Collegiate Church of St. Peter at Westminster, which is almost always referred to by its original name of Westminster Abbey, is a large church in Westminster, London. It is the traditional place of coronation and burial site for English, later British and later still (and currently) Monarchs of the Commonwealth Realms.
Westminster Abbey was destroyed by a truck bomb driven by a German Freedom Front Werewolf in 1947. St. Paul's Cathedral was destroyed that same night.
Ad blocker interference detected!
Wikia is a free-to-use site that makes money from advertising. We have a modified experience for viewers using ad blockers

Wikia is not accessible if you've made further modifications. Remove the custom ad blocker rule(s) and the page will load as expected.