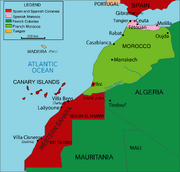 Western Sahara is a territory of North Africa. It is one of the most sparsely populated territories in the world, mainly consisting of desert flatlands. Western Sahara has been on the United Nations list of Non-Self-Governing Territories since the 1960s when it was a Spanish colony (when it was called Spanish Sahara). The Kingdom of Morocco and the Polisario Front independence movement (and government of the Sahrawi Arab Democratic Republic or SADR) dispute control of the territory.
As Spain was an ally of the Greater German Reich, Spanish Sahara remained part of the Spanish Empire into the 21st century.[1]
Spanish Sahara was a Spanish colony in North Africa. It was conquered by the Race's Conquest Fleet during their invasion of the Earth in 1942 along with the rest of Africa and Spain itself.[2] It was recognized as a Race colony after the Peace of Cairo in 1944.
References
Edit
Ad blocker interference detected!
Wikia is a free-to-use site that makes money from advertising. We have a modified experience for viewers using ad blockers

Wikia is not accessible if you've made further modifications. Remove the custom ad blocker rule(s) and the page will load as expected.