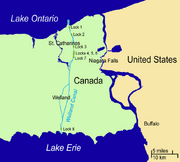 The Welland Canal is a ship canal in Ontario, Canada, connecting Lake Ontario and Lake Erie. It forms a key section of the St. Lawrence Seaway. Traversing the Niagara Peninsula from Port Weller to Port Colborne, it enables ships to ascend and descend the Niagara Escarpment and bypass Niagara Falls. There had been three previous Welland Canals prior to the current one, the first built 1824 to 1829 with a feeder canal built 1831 to 1833, the second was a series of expansions of the first from 1841 to 1854, the third was a new alignment completed in 1887 and the current canal started in 1913 and opened in 1932 with further dredging to deepen it continued until 1935.
At the outbreak of the Great War, the U.S. attempted to invade Canada on several places on the border, including from New York State, through the Niagara Peninsula and on to Toronto. However, the Canadians had built up defenses and the forced crossing of the Welland Canal caused thousands of deaths on the American side.[1]
References
Edit
Ad blocker interference detected!
Wikia is a free-to-use site that makes money from advertising. We have a modified experience for viewers using ad blockers

Wikia is not accessible if you've made further modifications. Remove the custom ad blocker rule(s) and the page will load as expected.