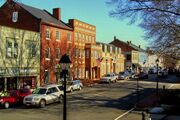 Warrenton
is a town in Fauquier County,
Virginia
. The population was 6,670 at the 2000 census. It is the county seat of Fauquier County.
Warrenton was a town in that part of Virginia which the U.S. annexed into West Virginia after the Great War. Its residents were unhappy with this change and were restive both before and during the Second Great War.
Nevertheless, General Daniel MacArthur made his headquarters in Warrenton during his invasion of Virginia. It was here that MacArthur informed his subordinate General Abner Dowling of his plan to land forces in the Peninsula and advance on Richmond from the southeast.
Ad blocker interference detected!
Wikia is a free-to-use site that makes money from advertising. We have a modified experience for viewers using ad blockers

Wikia is not accessible if you've made further modifications. Remove the custom ad blocker rule(s) and the page will load as expected.