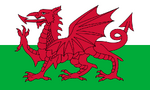 Wales
is a country that is part of the
United Kingdom
, bordered by
England
to its east (and a short sail to the Cornwall peninsula to the south), and the
Atlantic Ocean
and Irish Sea (with
Ireland
only a short sail away) to its west. It is also an elective region of the
European Union
.
The 13th-century defeat of Prince Llewelyn by King Edward I completed the Anglo-Norman conquest of Wales and brought about centuries of English occupation. Wales was subsequently incorporated into England with the Laws in Wales Acts 1535–1542, creating the legal entity known today as England and Wales. However, distinctive Welsh politics developed in the 19th century, and in 1881 the Welsh Sunday Closing Act became the first legislation applied exclusively to Wales. In 1955 Cardiff was proclaimed as national capital and in 1999 the National Assembly for Wales was created, which holds responsibility for a range of devolved matters.
Literary Comment
Edit
In nearly all of Harry Turtledove's works, Wales exists as a part of the United Kingdom, and any role it has played has been very minor throughout. However, as it is frequently referenced, even if in passing, this article has been created.
Alistair Walsh was born and raised in Wales. Rather than go into the mines as his relatives had, he "took the King's shilling" and enlisted in the British Army in time to fight in the First World War. He elected to remain in the army rather than to return to Wales, and was a Staff Sergeant by the time the Second World War broke out.