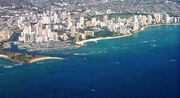 Waikīkī
or (
Waikiki
) is a neighborhood of
Honolulu
, in the City & County of Honolulu, on the south shore of the island of
Oahu
,
Hawaii
. Waikiki was the first capital of the independent Kingdom of Hawaii from 1795 to 1796.
Surfer Oscar van der Kirk lived in Waikiki prior to the Japanese invasion of Hawaii. During the yearlong Japanese occupation, Waikiki's beaches were crowded with people who came to fish for food.
When American forces liberated Hawaii in 1943, Waikiki's beaches were laced with shore defenses. Waikiki later became the last stand of Japanese forces under Captain Sanji Iwabuchi.
Ad blocker interference detected!
Wikia is a free-to-use site that makes money from advertising. We have a modified experience for viewers using ad blockers

Wikia is not accessible if you've made further modifications. Remove the custom ad blocker rule(s) and the page will load as expected.