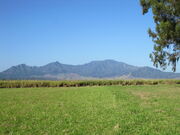 Waiʻanae Range
(sometimes referred to as the
Waianae Mountains
) is the eroded remains of an ancient shield volcano that comprises the western half of the
Hawaiian Island
of
Oahu
. Its crest, at Mount Kaʻala, is the highest peak on Oʻahu. Like the neighboring Koʻolau, the Waiʻanae Range is not a mountain range in the sense most people are familiar with, as the mountain range as a whole was created from a single volcano.
During the Japanese invasion of Hawaii, the Waianae Range was believed by the American military to be an impenetrable mountain-jungle terrain that would keep the Imperial Japanese Army from overrunning the western part of Oahu. The only passage through the Waianae Range was the Kolekole Pass, which was defended by a an underpowered garrison (most resources having been put into the fighting north of Wahiawa and Schofield Barracks). However, to the surprise of the Americans, the Japanese landed on Oahu's west coast and managed to climb over the mountain range, trapping the U.S. Army in a pincer. The Japanese also captured American mountain guns established on the Waianae Range, insuring artillery superiority over the Americans.
Ad blocker interference detected!
Wikia is a free-to-use site that makes money from advertising. We have a modified experience for viewers using ad blockers

Wikia is not accessible if you've made further modifications. Remove the custom ad blocker rule(s) and the page will load as expected.