Vladivostok
Talk

0
6,127pages on
this wiki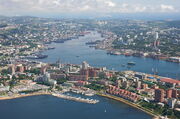 Vladivostok
is
Russia
's largest port city on the Pacific Ocean and the administrative center of Primorsky Krai. It is situated at the head of the Golden Horn Bay not far from Russia's border with
China
and North Korea. It is the home port of the Russian Pacific Fleet.
Vladivostok was the major port from which all weapons and supplies came from the United States to Russia. Due to the Non-aggression pact between the Soviet Union and Japan, these shipments landed at Vladivostok unmolested.
Vladivostok was destroyed by the United States with a sunbomb in retaliation for the Soviet Union's destruction of Tokyo in 1953.
The incident threatened to escalate into full-out war, but the intervention of German Chancellor Erich von Manstein and the death of Joseph Stalin prevented that.
In April, 1939, as the Soviet Union was looked in war with Germany and Poland, Japan launched an invasion of Soviet territory with the goal of taking Vladivostok. The Russians had dug in for a siege by digging vast amounts of trenches around the city and deploying lots of barbed wire and machine gun nests. The Soviets managed to hold out for a year until thousands, if not tens of thousands, of soldiers started surrendering due to a lack of food. Tenacious Soviet resistance had cost the Japanese many soldiers for every kilometer. Many Japanese soldiers compared Vladivostok to the siege of Port Arthur in 1905.
This article is a stub because the work is part of a larger, as-of-yet incomplete series.
Vladivostok in Worldwar
Edit
As it became clear that Harbin would fall to the Race, Flight Leader Teerts who had been held captive by the Japanese in the city was evacuated to the port city of Vladivostok. From there, he was spirited across the ocean to Japan.
After Harbin fell and Manchukuo was conquered, the Race then advanced on Vladivostok but it was unclear if the city fell to the Race.