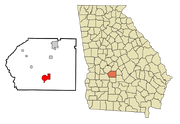 Vienna
is a city in Dooly County,
Georgia
. The population was 2,973 at the 2000 census. The city is the county seat of Dooly County.
In 1943, Spartacus' band of guerrillas had travelled as far east as Vienna. While camping outside of the town, Nick Cantarella happened to read in a Confederate newspaper of Canadian guerrillas using machineguns mounted in the back of pick-up trucks to harass U.S. forces. It gave him the idea for the black guerrillas to do the same. He and Jonathan Moss approached Spartacus about it and he agreed, thus launching a rein of terror in the backroads and hamlets around Vienna.
Ad blocker interference detected!
Wikia is a free-to-use site that makes money from advertising. We have a modified experience for viewers using ad blockers

Wikia is not accessible if you've made further modifications. Remove the custom ad blocker rule(s) and the page will load as expected.