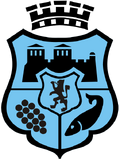 Vidin
is a port town on the southern bank of the
Danube
in northwestern
Bulgaria
. It is close to the borders with
Serbia
and
Romania
. It is the administrative center of Vidin Province.
Vidin was a collection point for the annual tribute demanded by the Turks during their occupation of Bulgaria. After the village of Gramada drove off a vurkolak, the headman Symeon visited Vidin, and learned that the vurkolak had begun preying on Kula. As the men of Kula had created the vurkolak by murdering a Gramada youth named Todor, no one in Gramada had much sympathy.
Ad blocker interference detected!
Wikia is a free-to-use site that makes money from advertising. We have a modified experience for viewers using ad blockers

Wikia is not accessible if you've made further modifications. Remove the custom ad blocker rule(s) and the page will load as expected.