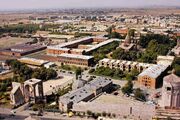 Vagharshapat
(Armenian: Վաղարշապատ), also popularly called by its classical name
Etchmiadzin
(also spelled Echmiadzin or Ejmiatsin, Էջմիածին) is the fourth-largest city in
Armenia
and the most populous town in Armavir Province, located about 18 km (11 mi) west of the capital Yerevan, and 10 km (6 mi) north of the border with
Turkey
. Vagharshapat is one of the historic capitals of Armenia and the main religious center of the Armenian people with the Etchmiadzin Cathedral, the most important Armenian Apostolic church, located in the city. It is thus unofficially known as a "holy city". The 1989 census counted the population of the city as 61,000. The number has declined somewhat since, showing 58,388 in the 2001 census, and 46,540 in 2011.
Etchmiadzin was ruled by Prince Rupen until he departed on his ill-advised quest for the Castle of the Sparrowhawk, at which point the vizier seized power. Rupen tried to regain the throne, but failed.
Ad blocker interference detected!
Wikia is a free-to-use site that makes money from advertising. We have a modified experience for viewers using ad blockers

Wikia is not accessible if you've made further modifications. Remove the custom ad blocker rule(s) and the page will load as expected.