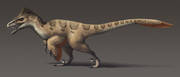 Utahraptor
("
Utah
's predator") is a genus of theropod dinosaurs. It contains a single species, Utahraptor ostrommaysorum, which is the largest known member of the family Dromaeosauridae. Fossil specimens date to the upper Barremian stage of the early
Cretaceous
period (in rock strata dated to 126 ± 2.5 million years ago).
Utahraptor was the star of a popular time-viewer video which put Jurassic Park to shame. The 1993 movie starred Utahraptor's smaller cousin Velociraptor.
Ad blocker interference detected!
Wikia is a free-to-use site that makes money from advertising. We have a modified experience for viewers using ad blockers

Wikia is not accessible if you've made further modifications. Remove the custom ad blocker rule(s) and the page will load as expected.