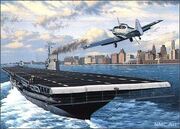 The USS Wolverine (IX-64) was a freshwater aircraft carrier of the United States Navy during World War II. She had been converted from a paddlewheeler coal-burning steamer to be used for advanced training for naval aviators in carrier take-offs and landings.
Joe Crosetti received his final training in an F3F at Buffalo, New York, as he used the plane to practice landing on the USS Wolverine.[1]
References
Edit
Ad blocker interference detected!
Wikia is a free-to-use site that makes money from advertising. We have a modified experience for viewers using ad blockers

Wikia is not accessible if you've made further modifications. Remove the custom ad blocker rule(s) and the page will load as expected.