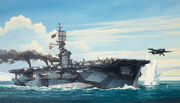 USS Suwannee (CVE-27) (originally an oiler AO-33, converted to an escort carrier AVG/ACV/CVE-27) was laid down on 3 June 1938 at Kearny, New Jersey, by the Federal Shipbuilding and Drydock Company, under a Maritime Commission contract as Markay (MC hull 5); launched on 4 March 1939, sponsored by Mrs. Howard L. Vickery; delivered to the Keystone Tankship Corporation and operated by that company until acquired by the United States Navy on 26 June 1941; renamed Suwannee (AO-33); and commissioned on 16 July 1941, Commander Joseph R. Lannom in command.
In 1942, after the pounding the U.S. Navy had taken at the hands of the Japanese Navy, the escort carrier USS Suwannee, along with her sister ship, the USS Chenango, were both attached to the Ranger Task Force, in order to give the US Pacific Fleet more naval air power. Although painfully slow and lacking the fire power of a proper fleet carrier, the Suwannee's small compliment of aircraft still added much needed carrier planes to the battle.[1]
References
Edit
Ad blocker interference detected!
Wikia is a free-to-use site that makes money from advertising. We have a modified experience for viewers using ad blockers

Wikia is not accessible if you've made further modifications. Remove the custom ad blocker rule(s) and the page will load as expected.