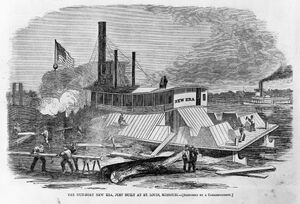 USS New Era
was a steamer acquired by the
Union Navy
during the
American Civil War
. She was used by the Union Navy as a gunboat in support of the Union Navy blockade of
Confederate
waterways.
In April, 1864, under the command of Captain James Marshall, the New Era was anchored on the Mississippi River in support of the Union garrison at Fort Pillow. The New Era added its guns to the defense of the fort for a time. This included attempts to shell and destroy a row of barracks outside the fort that were in danger of coming under Confederate control. Due either to signaling confusion or bad luck, the New Era's efforts were generally in vain.
Confederate General Nathan Bedford Forrest ordered men to the river bank to commence firing on the New Era.
Fire from Confederate sharpshooters forced the vessel to "button up" its gun ports. It was also fired upon by canons capture inside the fort. The barrage of gunfire convinced Captain Marshall to order the ship up-river, despite the fact that the garrison was retreating to the river, hoping that the New Era would provide additional support.
Though Fort Pillow was captured by the Confederates and a large portion of its USCT garrison massacred, New Era remained in the area to pick up those who had escaped. Over the next two days the gunboat continued to intermittently shell the woods near Fort Pillow to dissuade the Confederates from establishing a battery or burning a number of barges along the river bank. New Era's crew also assisted in burying many of the dead from Fort Pillow. When Confederate forces left the area on April 14th, the New Era steamed back north toward Island No. 10 with civilian and military survivors of the Fort Pillow Massacre. Through the remainder of the war the steamer operated on the upper Mississippi and its tributaries protecting Union communications on the waterways.
Fort Pillow

POV Characters
Secondary Characters
Geography
Events
Ad blocker interference detected!
Wikia is a free-to-use site that makes money from advertising. We have a modified experience for viewers using ad blockers

Wikia is not accessible if you've made further modifications. Remove the custom ad blocker rule(s) and the page will load as expected.