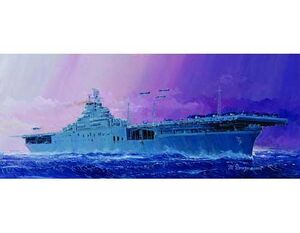 USS Essex (CV/CVA/CVS-9) was the lead ship of the 24-ship Essex aircraft carrier classs built for the United States Navy during World War II. She was the fourth US Navy ship to bear the name. Commissioned in December 1942, Essex participated in several campaigns in the Pacific Theater of Operations, earning the Presidential Unit Citation and 13 battle stars. Decommissioned shortly after the end of the war, she was modernized and recommissioned in the early 1950s as an attack carrier (CVA), and then eventually became an anti-submarine carrier (CVS).
The USS Essex was put into action almost immediately after her launch. In the summer of 1943, the United States launched a massive invasion of Hawaii, comprised of some seven aircraft carriers including Essex, five light carriers, close to a dozen escort carriers, several destroyers, and troop carriers. This invasion proved to be the end of Japanese rule in Hawaii.
Ad blocker interference detected!
Wikia is a free-to-use site that makes money from advertising. We have a modified experience for viewers using ad blockers

Wikia is not accessible if you've made further modifications. Remove the custom ad blocker rule(s) and the page will load as expected.