The
USS Copahee (CVE-12)
was a
Bogue
-class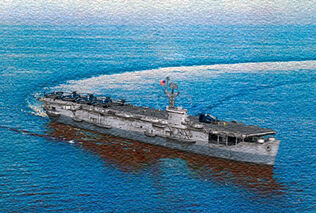 World War II
escort carrier that served in the
United States Navy
during
World War II
. Originally classified
AVG-12
, was changed to
ACV-12
, 20 August 1942;
CVE-12
, 15 July 1943; and
CVHE-12
, 12 June 1955.
Copahee
was redesignated as a helicopter escort carrier (
CVHE-12
) on 12 June 1955. Stricken for disposal on 1 March 1959,
Copahee
was sold for scrap in 1961.
The USS Copahee was one of the many escort carriers with the US Task Force that smashed the Japanese Fleet in April of 1943. After which, Copahee went on to support the US ground forces on Oahu. After Japanese air power had been wiped out, the Fleet's CAP's grew complacent, allowing a lone Zero fighter to slip through and bomb the Copahee. Though not seriously damaged, she was out of action for a while as her flight deck was repaired.
Ad blocker interference detected!
Wikia is a free-to-use site that makes money from advertising. We have a modified experience for viewers using ad blockers

Wikia is not accessible if you've made further modifications. Remove the custom ad blocker rule(s) and the page will load as expected.