USS Amberjack
(SS-219) was a
Gato
-class
submarine
in the
United States Navy
, operating in the Pacific Theatre of
World War II
in 1942 and 1943. She was sunk by the
Japanese
near
New Guinea
on 16 February 1943.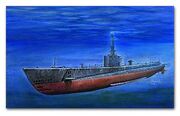 The USS Amberjack launched in March 1942, and was commissioned in June 1942, with Lieutenant Commander Woodrow "Woody" Kelley[1] in command. Her first task was to patrol Hawaii, which had fallen to the Empire of Japan a few months before.
The Amberjack surfaced next to Oscar van der Kirk near Diamond Head, as the young man was fishing from his sailboard. Kelley asked van der Kirk a few questions about the situation in Hawaii, and then the submarine submerged and went back on patrol.[2]
References
Edit
Ad blocker interference detected!
Wikia is a free-to-use site that makes money from advertising. We have a modified experience for viewers using ad blockers

Wikia is not accessible if you've made further modifications. Remove the custom ad blocker rule(s) and the page will load as expected.