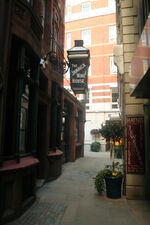 The
Turk's Head
was a coffee house in the New Palace Yard neighbourhood of
London
. The coffee house, believed to be the first such establishment in the city, was opened in 1652 by Pasqua Rosée and Daniel Edwards. In late 1659 and early 1660, it hosted the
Rota Club
debating society which included
Samuel Pepys
. The site is currently (2010s) occupied by the Jamaica Wine House, constructed in the 19th century.
The Turk's Head was a coffee house in London. Samuel Pepys and his fellows in the Rota Club ate there in May 1661. A serving girl named Kate served them, and Sir William Henry made a joke about Pepys' admiration of her.
Ad blocker interference detected!
Wikia is a free-to-use site that makes money from advertising. We have a modified experience for viewers using ad blockers

Wikia is not accessible if you've made further modifications. Remove the custom ad blocker rule(s) and the page will load as expected.