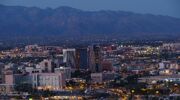 Tucson
is the county seat of Pima County,
Arizona
, United States, and is the home to University of Arizona. The city is located 118 miles (188 km) southeast of
Phoenix
and 60 miles (98 km) north of the
United States
-
Mexico
Border.
After his victory at Contention City in the Second Mexican War, Confederate General Jeb Stuart formed an alliance with Geronimo and his Apache Indians. Together, they turned their attention to the town of Tucson, where there was a combined force of US cavalry and Tombstone Rangers. The Apache's attacked the US forces there and lured them into an ambush near the Canyon half way between the town and Tubac which resulted in the Battle of Madera Canyon. After their defeat, what little remained of the combined US cavalry force retreated back to Tucson and stayed there for the remainder of the war.
During the Great War, Tucson was used by the US Army as a hospital for soldiers wounded during the campaign in Sonora.
Ad blocker interference detected!
Wikia is a free-to-use site that makes money from advertising. We have a modified experience for viewers using ad blockers

Wikia is not accessible if you've made further modifications. Remove the custom ad blocker rule(s) and the page will load as expected.