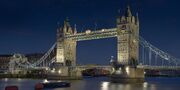 Tower Bridge is a combined bascule and suspension bridge in London, England over the River Thames. It is close to the Tower of London, which gives it its name. It has become an iconic symbol of London.
The Sanguine Club imprisoned a vampire named Jack in the foundation of the Tower Bridge early in its construction, in 1888.
Jack had been murdering prostitutes in the Whitechapel area, after drinking their blood. Though the member of the Sanguine Club accepted him at first, they were terrified that his actions would reveal them to the world.
After walking in at him disemboweling another prostitute, and disgusted at what they saw, the Club buried him alive in the Bridge as punishment.
Ad blocker interference detected!
Wikia is a free-to-use site that makes money from advertising. We have a modified experience for viewers using ad blockers

Wikia is not accessible if you've made further modifications. Remove the custom ad blocker rule(s) and the page will load as expected.