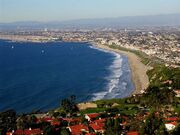 Torrance
is a city incorporated in 1921 and located in the
South Bay
(southwestern) region of
Los Angeles
County,
California
,
United States
. The population was 145,438 at the 2010 census.
Torrance was one of the areas of metro Los Angeles that was basically untouched by the atomic bombs the Soviet Union.[1] In April 1951, Mrs. O'Byrnne of Torrance purchased a refrigerator from Blue Front in Glendale, which had also come through relatively untouched.[2]
Since Torrance was a South Bay, California town, it too had several murders committed by the South Bay Strangler. Captain Nels Jensen was in charge of the investigation for the Torrance PD and had dealings with both Lt. Colin Ferguson of the San Atanasio PD and Lt. Stu Ayers of the Palos Verdes PD.[3] When Margot Keller of Torrance was murdered, Ayers had a meeting with the various South Bay police investigators at the Torrance PD HQ to go over his findings and exchange ideas on how to proceed. Both Ferguson and Ayers attended.[4]
About a year after the Yellowstone Supervolcano eruption, the South Bay towns were running low on gasoline for their municipal vehicles including police cars. Officials worked up a secret deal to get a large oil tanker shipment of crude into San Pedro and then transship it to El Segundo for refinement into gasoline for their sole use. The Torrance PD escorted the crude oil tanker trucks across their jurisdiction and handed them over to Lt. Ferguson to escort the convoy across San Atanasio.[5]
References
Edit