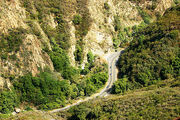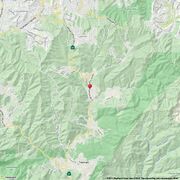 State Route 27 is a state highway in the U.S. state of California that runs from Pacific Coast Highway (PCH) at Topanga State Beach near Pacific Palisades, through Topanga Canyon including the community of Fernwood Pacific also known as Topanga, and continuing through Woodland Hills, Canoga Park, West Hills, and Chatsworth to Ronald Reagan Freeway. The entire route is commonly known by its street name, Topanga Canyon Boulevard.
Lower Topanga Canyon Boulevard, from Glenview leading down to Topanga, was a narrow, winding two lane road. Bruce Delgado thought that the people who managed to build it before The Change must have been proud they managed that much. It did prevent the Chatsworth Lancers from building up speed for a charge so they had to trot forward while screened by infantry to protect them from archers and crossbowmen.[1]
After breaching the Topangan defensive wall at Glenview, Delgado's forces still faced harassing fire from archers on the hillsides on either side. Then, a half mile down the road, Delgado received a report of a second barrier at a point where the Canyon narrowed. While only chest high, it was enough to stall his infantry advance while there was no room for a charge. Delgado considered dismounting his Lancers and having them attack on foot since they were better armored than the Topangans but feared they would only fall back and regroup at still another barricade.[2]
References
Edit