Tokyo
Talk

1
6,143pages on
this wiki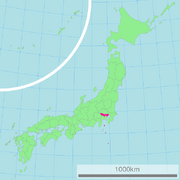 Tokyo
(東京), officially
Tokyo Metropolis
(東京都), is the capital city of
Japan
, and is one of the country's 47 prefectures. It is located on the eastern side of the main island
Honshu
. The twenty-three special wards of Tokyo, each governed as a city, cover the area that was once the city of Tokyo in the eastern part of the prefecture, totaling over 8 million people. The population of the prefecture exceeds 12 million. The prefecture is the center of the Greater Tokyo Area, the world's most populous metropolitan area.
Tokyo is the seat of the Japanese government and the Imperial Palace, and the home of the Japanese Imperial Family.
Tokyo was the scene of fierce fighting and sustained bombing during Operation: Downfall, the United States invasion of Japan in 1945. After the war, Japan was divided between the U.S. and the Soviet Union. Tokyo became the capital of South Japan, the puppet state created under the direction of U.S. President Joe Steele.
Tokyo was spared further damage during the Japanese War. For reasons that aren't clear, the Soviet Union opted to drop its atomic bomb on Nagano rather than Tokyo in 1949.
United Tokyo was destroyed in the 1950s by a Soviet sunbomb smuggled into Tokyo's harbor by freighter. Several hundred thousand were killed. In response, the United States dropped their own sunbomb on Soviet occupied Hokkaido. Only the mediation of German leader Erich von Manstein and the timely death of Joseph Stalin prevented the exchange from escalating into a larger war.[1]
In the summer of 1940, Soviet Foreign Commisssar Maxim Litvinov traveled to Tokyo to broker a cease-fire between his country and the Empire of Japan in the wake of the fall of Vladivostok.[2]
Tokyo was the capital city of Japan at the time of the Race's invasion. The Race destroyed Tokyo with an explosive-metal bomb in 1943 when they learned Tokyo was the site of Japan's nuclear program.[3]
References
Edit