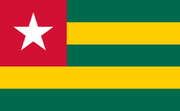 Togo
is a country in West
Africa
bordered by
Ghana
to the west,
Benin
to the east and
Burkina Faso
to the north. It extends south to the Gulf of Guinea, where its capital Lomé is located. Togo covers 57,000 square kilometres (22,000 sq mi), making it one of the smallest countries in Africa, with a population of approximately 7.5 million.
Togo is a tropical, sub-Saharan nation, highly dependent on agriculture, with a climate that provides good growing seasons. The official language is French, with many other languages spoken in Togo, particularly those of the Gbe family.
From the 11th to the 16th century, various tribes entered the region from all directions. From the 16th century to the 18th century, the coastal region was a major trading center for Europeans in search of slaves, earning Togo and the surrounding region the name "The Slave Coast". In 1884, Germany declared Togoland a protectorate. After World War I, rule over Togo was transferred to France. Togo gained its independence in 1960.
Togoland came back under German rule after France's defeat in the Second World War. It remained part of the Reich into the 21st century.[1]
Togoland fell to The Race's Conquest Fleet during their invasion of the Earth in 1942 along with the rest of Africa. It was recognized as a Race colony following the Peace of Cairo in 1944.[2]
References
Edit
Ad blocker interference detected!
Wikia is a free-to-use site that makes money from advertising. We have a modified experience for viewers using ad blockers

Wikia is not accessible if you've made further modifications. Remove the custom ad blocker rule(s) and the page will load as expected.