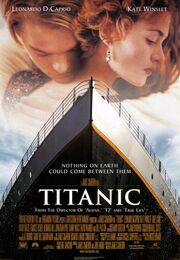 Titanic
is a 1997
American
film that dramatizes the 1912 sinking of the
RMS Titanic
. The film was written and directed by James Cameron, and won 11 Academy Awards, including Best Picture and Best Director. The film stars Leonardo DiCaprio and Kate Winslet.
The wholly fictional film Titanic was found by most to be far more exciting than time-viewer recordings of the actual sinking of the Titanic.
Ad blocker interference detected!
Wikia is a free-to-use site that makes money from advertising. We have a modified experience for viewers using ad blockers

Wikia is not accessible if you've made further modifications. Remove the custom ad blocker rule(s) and the page will load as expected.