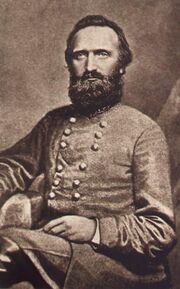 Thomas the Brick Wall
was a wing commander in the
Army of Southern Parthenia
. He was considered by some second only to his superior, Duke
Edward of Arlington
, as the greatest general who followed "King"
Geoffrey
's rebellion against King
Avram
.
At the Battle of Viziersville, Thomas and Edward conceived and executed a daring plan to rout Fighting Joseph's loyal forces despite being severely outnumbered. Unfortunately, while reconnoitering near the front, Thomas was accidentally shot by his own men and mortally wounded.
Literary Comment
Edit
Thomas the Brick Wall is based on Thomas "Stonewall" Jackson.
Ad blocker interference detected!
Wikia is a free-to-use site that makes money from advertising. We have a modified experience for viewers using ad blockers

Wikia is not accessible if you've made further modifications. Remove the custom ad blocker rule(s) and the page will load as expected.