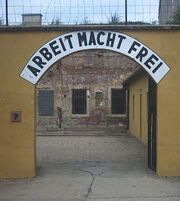 The
Theresienstadt
concentration camp
was established by the
SS
during
World War II
in the fortress and garrison city of
Terezín
(German name
Theresienstadt
), located in the
Sudetenland
. During World War II it served as a
Nazi
concentration camp staffed by
German
guards.
Tens of thousands of people died there, some killed outright and others dying from malnutrition and disease. More than 150,000 other persons (including tens of thousands of children) were held there for months or years, before being sent by rail transports to their deaths at the Treblinka and Auschwitz extermination camps in occupied Poland, as well as to smaller camps elsewhere. Approximately 144,000 Jews were sent to Theresienstadt. Most inmates were Czech Jews, but 40,000 were from Germany, 15,000 from Austria, 5,000 from the Netherlands, and 300 from Luxembourg. In addition to the group of approximately 500 Jews from Denmark, Slovak and Hungarian Jews were deported to the ghetto. 1,600 Jewish children from Białystok, Poland, were deported from Theresienstadt to Auschwitz; none survived. About a quarter of the inmates (33,000) died in Theresienstadt, mostly because of the deadly conditions, which included hunger, stress, and disease. The typhus epidemic at the very end of war took an especially heavy toll.
In Summer 1940, Adolf Hitler ordered that the Jews of the occupied territories of Bohemia and Moravia be transferred to the town of Teriesenstadt on the pretext of "anti-German" activities. In Teriesenstadt, the Jews would be concentrated, observed, and guarded by Heinrich Himmler's SS.[1]
References
Edit
Ad blocker interference detected!
Wikia is a free-to-use site that makes money from advertising. We have a modified experience for viewers using ad blockers

Wikia is not accessible if you've made further modifications. Remove the custom ad blocker rule(s) and the page will load as expected.