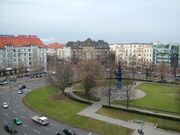 Theodor Heuss Platz
(colloquially called
Theo
by locals) is a large city square in the Westend district of
Berlin
,
Germany
. It is named after Theodor Heuss (1884–1963), the first President of Germany after
World War II
.
The square was laid out as part of the development of the new Westend district between 1904 and 1908 and then named Reichskanzlerplatz after the office of the Chancellor of Germany. After the Nazi Party took power, the square was renamed Adolf Hitler Platz on 21 April 1933. According to the Welthauptstadt Germania plans by Adolf Hitler and his architect Albert Speer, it was to have an important role at the western end of the monumental east-west axis, including a vast heroes' memorial. After World War II, its name officially returned to Reichskanzlerplatz on 31 July 1947. On 18 December 1963, six days after President Heuss died, the square was given its present name.
Adolf Hitler Platz was a massive public square at the heart of Berlin, Greater German Reich. Large enough to hold one million people, the Platz was the site of several key monuments and buildings, including the Führer's palace and the Great Hall.[1] People in the Platz could view a large televisor screen located on the outer wall of the palace. For example crowds congregated here to watch the news on Führer Kurt Haldweim's death.[2] Mourners also gathered in the Platz while Haldweim lay in state.[3]
Throughout 2010, crowds gathered in the Platz to support Führer Heinz Buckliger and/or Gauleiter Rolf Stolle.[4] Stolle frequently made use of the Platz to call on Buckliger for accelerated reforms.[5] After the failure of the Putsch against Buckliger in 2011, the usurping Führer, Odilo Globocnik, was taken from the palace by an angry mob and beaten to death. The brutalized corpse was hung up by its heels from a lamppost in the Platz.[6]
References
Edit
Ad blocker interference detected!
Wikia is a free-to-use site that makes money from advertising. We have a modified experience for viewers using ad blockers

Wikia is not accessible if you've made further modifications. Remove the custom ad blocker rule(s) and the page will load as expected.