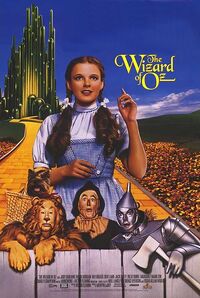 The Wizard of Oz
is a 1939 film adaptation of the 1900 children's novel
The Wonderful Wizard of Oz
by
L. Frank Baum
. The movie is a musical and features Judy Garland, who played the lead role of Dorothy Gale, in the breakout role that would establish her career. The much-loved soundtrack was written by E.Y. "Yip" Harburg, and memorable songs include "Over the Rainbow," voted the most-loved movie song of all time in 2004; "If I Only Had a Heart/a Brain/the Nerve;" "If I Were King of the Forest;" "Merry Old Land of Oz;" and "Ding-Dong! The Witch Is Dead!" The film also experimented with what was at the time the state of the art of Technicolor. It had the largest budget of any film produced by MGM up to that time, and was initially a box-office failure. However, it recouped the studio's investment on re-release later in 1939.
The Wizard of Oz received a number of Academy Award nominations, including Best Picture, (though it had the misfortune of being released the same year as Gone with the Wind, which took that award). The only Oscar it won, however, was that for Best Original Song ("Over the Rainbow").
The Wizard of Oz has remained a much-loved film throughout the decades since its release. It regularly ranks among the most popular films of all time, and in 1996 a study by the Library of Congress estimated that it has been watched more times than any film in history.
In the summer of 1940, a movie house in Shanghai showed a re-release of the previous year's The Wizard of Oz. Vera Kuznetsova convinced Pete McGill to take her there on a date. McGill would not have chosen to see the movie himself, but was impressed by the high production value. Having read L. Frank Baum's work as a child in New York City, he had some idea of the plot. Vera did not and was riveted by every scene.
Unfortunately, the decision to attend this movie proved disastrous, as this particular scene had been targeted by terrorists affiliated with the Chinese Communist Party. They detonated a bomb inside the theater at the point in the movie when the protagonists, having survived the dangerous poppy field and finally being within sight of the Emerald City, are running toward that impressive city. McGill suffered severe injuries from the bomb, and Kuznetsova was killed instantly.[1]
References
Edit
Ad blocker interference detected!
Wikia is a free-to-use site that makes money from advertising. We have a modified experience for viewers using ad blockers

Wikia is not accessible if you've made further modifications. Remove the custom ad blocker rule(s) and the page will load as expected.