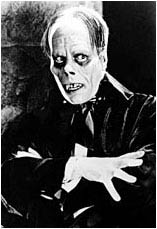 The Phantom of the Opera (in French, Le Fantôme de l'Opéra) is a French novel by Gaston Leroux. It was first published as a serial in Le Gaulois from 23 September 1909 to 8 January 1910. It tells the story of a horribly deformed but musically gifted man (the Phantom) living in the catacombs beneath the Paris Opera House, his unrequited love for a young singer, and the evil lengths to which he is prepared to go to bring about her success and gain her love. The story has been filmed numerous times, starting with the 1925 silent film starring Lon Chaney.
Upon hearing the enthusiastic applause given to a speech by Secretary of State James Byrnes, Diana McGraw concluded that Byrnes must have had the hypnotic prowess of the Phantom of the Opera.
Phantom of the Catacombs was a French novel. In the 1920s, it was made into an American silent moving picture starring Lon Chaney.