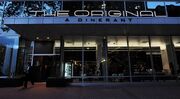 The Original
is a casual dining restaurant located on SW 6th Avenue in
Portland, Oregon
. In both its menu and its décor, it seeks to emulate the atmosphere of diners common through much of the
United States
in the 1950s and '60s.
When Kelly Ferguson attended an American geologists' convention in Portland, Oregon, she and Daniel Olson intended to have breakfast in the Benson Hotel restaurant. However it was closed while the staff set it up for Sunday brunch so the two went down the street to The Original instead. It was a pleasant enough place decorated with paintings of clowns with mayonnaise jars. The ham and eggs and coffee Ferguson had with the sausage and eggs and coffee Olson had went down well and calmed Ferguson's pre-presentation jitters.[1]
Ad blocker interference detected!
Wikia is a free-to-use site that makes money from advertising. We have a modified experience for viewers using ad blockers

Wikia is not accessible if you've made further modifications. Remove the custom ad blocker rule(s) and the page will load as expected.