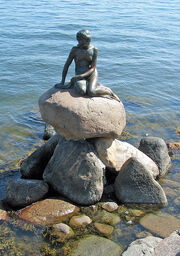 The Little Mermaid
is a statue of a mermaid in Langelinie,
Copenhagen
, the capital of
Denmark
. Based on the fairy tale of the same name by Hans Christian Andersen, the small and unimposing statue (with a height of 1.25 metres) is a Copenhagen icon and a major tourist attraction. The statue was commissioned in 1909 by Carl Jacobsen, son of the founder of Carlsberg, who had been fascinated by a ballet about the fairytale in Copenhagen's Royal Theatre and asked the prima ballerina, Ellen Price, to model for the statue. The sculptor Edvard Eriksen created the bronze statue, which was unveiled on 23 August 1913. The statue's head was modelled after Price, but as the ballerina did not agree to model in the nude, the sculptor's wife, Eline Eriksen, was used for the body
On her final day in Copenhagen, Denmark, Peggy Druce saw the statue of the Little Mermaid while she ate lunch at the Yatch Pavilion. Unfortunately, it was the last pleasant sight she saw in the city as immediately afterwords, she saw the sight of German troops invading.[1]
References
Edit
Ad blocker interference detected!
Wikia is a free-to-use site that makes money from advertising. We have a modified experience for viewers using ad blockers

Wikia is not accessible if you've made further modifications. Remove the custom ad blocker rule(s) and the page will load as expected.