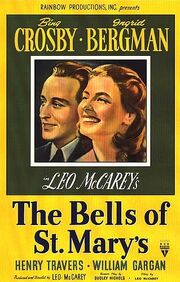 The Bells of St. Mary's is a 1945 film which tells the story of a Catholic priest and a nun at a school who set out, despite their good-natured rivalry, to save the school from being shut down. It stars Bing Crosby and Ingrid Bergman.
Diana McGraw went with her family to see the The Bells of St. Mary's in downtown Anderson the night before she left for Washington, DC. She knew that her husband Ed would probably spend much of the film staring at Ingrid Bergman.
Before the film started, the family saw a news reel containing the film which the German Freedom Front made, featuring American private Matthew Cunningham begging for his life.