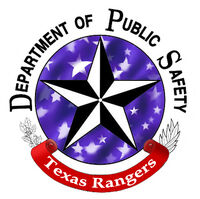 The
Texas Ranger Division
, commonly called the
Texas Rangers
, is a law enforcement agency with statewide jurisdiction based in
Austin
, the capital of
Texas
, in the
United States
. Over the years, the Texas Rangers have investigated crimes ranging from murder to political corruption, acted as riot police and as detectives, protected the Governor of Texas, tracked down fugitives, and functioned as a paramilitary force at the service of both the Republic (1836–45) and the state of Texas.
The unit has been called the oldest state-level law enforcement agency in the United States. The Rangers have taken part in many of the most important events of Texas history and were involved in some of the best-known criminal cases in the history of the Old West, such as those of gunfighter John Wesley Hardin, bank robber Sam Bass, and outlaws Bonnie and Clyde. Scores of books have been written about the Rangers, from well researched works of nonfiction to pulp novels, making them significant participants in the mythology of the Wild West. During their long history, a distinct Ranger tradition has evolved; their cultural significance to Texans is such that they are legally protected against disbandment.
After Texas seceded from the Confederate States at the end of the Second Great War and entered into a separate peace with the United States, the Texas Rangers arrested all of the Freedom Party officials in the state who oversaw the Population Reduction. However, the US Army had just as much presence in Texas, causing many to question whether the new Republic would be allowed its independence in the long run.
Ad blocker interference detected!
Wikia is a free-to-use site that makes money from advertising. We have a modified experience for viewers using ad blockers

Wikia is not accessible if you've made further modifications. Remove the custom ad blocker rule(s) and the page will load as expected.