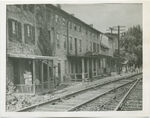 Texas
a historical village located in the
U.S.
state of
Maryland
. It was established by
Irish
immigrants in the 19th Century. Over time, its population dwindled, and it is now little more than a historical site.
Early on in the Second Great War, Jonathan Moss' squadron was transferred to an airfield just outside Texas, Maryland during General Daniel MacArthur's build-up prior to his attack into Virginia. The squadron flew numerous ground attack missions from this field after the invasion began.
Ad blocker interference detected!
Wikia is a free-to-use site that makes money from advertising. We have a modified experience for viewers using ad blockers

Wikia is not accessible if you've made further modifications. Remove the custom ad blocker rule(s) and the page will load as expected.