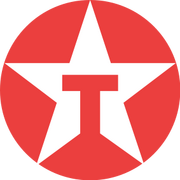 Texaco ("The Texas Company") is the name of an American oil retail brand. It began as the Texas Fuel Company, founded in 1901 in Beaumont, Texas. It merged with Chevron Oil in 2001.
Joe Bauman opened up a Texaco station in Roswell, New Mexico in the early 1950s. It was here that he met three strange men in January, 1954. As Bauman was a "man of the star" (Texaco's symbol) and played for the Roswell Rockets, the three strange men decided to give Bauman a gift.
Ad blocker interference detected!
Wikia is a free-to-use site that makes money from advertising. We have a modified experience for viewers using ad blockers

Wikia is not accessible if you've made further modifications. Remove the custom ad blocker rule(s) and the page will load as expected.