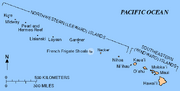 Tern Island is a tiny coral island located in the French Frigate Shoals in the Northwestern Hawaiian Islands, at 23°N 166°W, approximately 490 miles west north west of Oahu. It has a land area of 105,276 m² (26.014 acres).
After the Battle of Midway, the U.S. Navy built a Naval Air Station on Tern Island, enlarging the island sufficiently to support a 3300 ft. (1005 m) landing strip. The Station's main function was as an emergency landing site for planes flying between Hawaii and Midway Atoll.
In 1943 the US Navy began work on a runway on Tern Island, a small island about half way between Hawaii and Midway.[1] After the runway was finished, it was used as a staging area to launch approximately a brigade of Marine paratroopers in hundreds of C-47s to retake Midway.[2]
References
Edit
Ad blocker interference detected!
Wikia is a free-to-use site that makes money from advertising. We have a modified experience for viewers using ad blockers

Wikia is not accessible if you've made further modifications. Remove the custom ad blocker rule(s) and the page will load as expected.