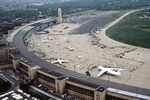 The
Tempelhof Airport
was one of three airports in
Berlin
,
Germany
. It was situated in the south-central borough of Tempelhof-Schöneberg.
Designated by the ministry of transport on 8 October 1923, Tempelhof became the world's first airport with an underground railway station in 1927, now called Platz der Luftbrücke after the Berlin Airlift.
Despite the efforts of the Berlin citizenry, Tempelhof was closed in 2008.
Tempelhof Airport was one of the busiest airports of the Greater German Reich. Luftwaffe Alfa arrived and departed from Tempelhof regularly. After the 2011 Putsch failed, Führer Heinz Buckliger returned to Berlin, and was met by an enthusiastic Rolf Stolle. The televised meeting, which Horst Witzleben described as one the world would long remember, showed a shift in the power dynamic between Buckliger and Stolle.
Ad blocker interference detected!
Wikia is a free-to-use site that makes money from advertising. We have a modified experience for viewers using ad blockers

Wikia is not accessible if you've made further modifications. Remove the custom ad blocker rule(s) and the page will load as expected.