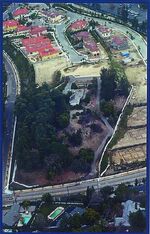 Tarzana
is a 70.7%
white
, affluent, highly educated neighborhood in the
San Fernando Valley
region of the city of
Los Angeles
,
California
. Tarzana is a mostly residential community on the site of a former ranch owned by author
Edgar Rice Burroughs
. It is named after Burroughs' storybook jungle character hero, Tarzan of the Apes.
Professor Tesla Kidder lived and worked in Tarzana. Since he was a mad scientist, he had his own private laboratory in the town. While he tried to be a good neighbor, some of his experiments did cause problems. One, a "stop light", caused an area with a radius of 1.378 miles to plunge into absolute darkness. Fortunately the AAA battery that powered his device failed after a couple of hours, restoring the light.[1]
References
Edit
Ad blocker interference detected!
Wikia is a free-to-use site that makes money from advertising. We have a modified experience for viewers using ad blockers

Wikia is not accessible if you've made further modifications. Remove the custom ad blocker rule(s) and the page will load as expected.