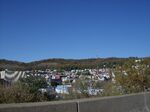 Tarentum
is a borough in Allegheny County,
Pennsylvania
, 22 miles northeast of
Pittsburgh
, on the
Allegheny River
. The population was 4,993 at the 2000 census.
In 1942 Sgt. Michael Pound was assigned to a new barrel under the command of 1st Lt. Don Griffiths just outside Tarentum, Pennsylvania. The force at this location advanced north and west and were key in preventing the northern column of Confederate forces from encircling Pittsburgh.
Ad blocker interference detected!
Wikia is a free-to-use site that makes money from advertising. We have a modified experience for viewers using ad blockers

Wikia is not accessible if you've made further modifications. Remove the custom ad blocker rule(s) and the page will load as expected.