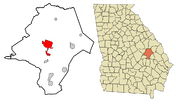 Swainsboro
is the county seat of Emanual County,
Georgia
.
USA
, and is most noted in that US 1 and the Central of Georgia Railroad both run through the town.
The woods around Swainsboro were particularly thick and it had a turpentine plant, a couple of planing mills, and a furniture factory to deal with the timber. The biggest event in the Second Great War occurring in Swainsboro was an attack on a US convoy (including Cincinnatus Driver).
Ad blocker interference detected!
Wikia is a free-to-use site that makes money from advertising. We have a modified experience for viewers using ad blockers

Wikia is not accessible if you've made further modifications. Remove the custom ad blocker rule(s) and the page will load as expected.