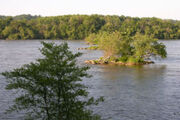 The Susquehanna River is a river located in the northeastern United States. At 464 miles (747 km) long, it is the longest river on the American east coast that drains into the Atlantic Ocean, and with its watershed it is the 16th largest river in the United States, and the longest river in the continental United States without commercial boat traffic. It flows through three states: New York, Pennsylvania, and Maryland.
The Susquehanna River marked the farthest advance of the Confederate Army of Northern Virginia during the Great War.
Ad blocker interference detected!
Wikia is a free-to-use site that makes money from advertising. We have a modified experience for viewers using ad blockers

Wikia is not accessible if you've made further modifications. Remove the custom ad blocker rule(s) and the page will load as expected.